351 Water Street Awarded First LEED® Gold Certification in NL
11 May 2017, St. John's, NL – East Port Properties and Stantec are proud to announce 351 Water Street has been awarded LEED® Gold certification, one of the highest designations of sustainable practices and management.
351 Water Street becomes the first LEED® Gold certified building in Newfoundland and Labrador.
East Port Properties wanted to develop 351 Water Street as a building of firsts, and with Stantec's design, was able achieve these goals – the first new office building in St. John's in 25 years, the first use of precast concrete for both aesthetics and longevity in the parking garage, and a measurable first – sustainable building systems, using the closest natural resource – the St. John's Harbour.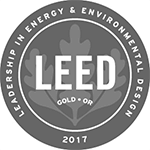 Using St. John's Harbour as an energy source for both heating and cooling an office building – another first in Newfoundland and Labrador – together with the use of automated technologies and good management practices, has resulted in a 35% reduction in energy use at 351 Water Street, as evidenced by the actual operating costs of the building over the past two years.
"Achieving LEED® certification doesn't just happen," says Kerry Gosse of Stantec. "It can only come from a close collaboration between owners and developers, design consultants and engineers, contractors and suppliers – all of whom share a passion for conscious sustainable and efficient design. Stantec is so proud to have been a part of this team of creative professionals."
Stantec provided environmental services, geotechnical investigation, project management, buildings engineering, and architecture services for 351 Water Street.
"We're honoured to receive this prestigious certification", said Judy Wall, President, East Port Properties. "It confirms the benefits of the choices we made in the building design stage, and provides third party validation that those design goals have been achieved. This is the culmination of significant teamwork among all our consultants and contractors, and the engagement and assistance of all of our tenants, and we share this honour with all those involved in working and living with us at 351 Water Street."
This marks the seventh LEED® certified building for East Port Properties since 2013, and the sixth in the past four months.
About LEED® 
Leadership in Energy and Environmental Design (LEED®) is a rating system that is recognized as the international mark of excellence for green building in over 160 countries. Since 2002, the Canada Green Building Council® (CaGBC) and LEED® Canada have been redefining the buildings and communities where Canadians live, work, and learn. LEED® works because it recognizes that sustainability should be at the heart of all buildings – in their design, construction, and operation. Since 2004, the CaGBC has certified over 2,800 LEED® buildings in Canada and registered over 5,000 – with the second-highest number of LEED® projects anywhere in the world.
About Stantec
The Stantec community unites approximately 22,000 employees working in over 400 locations across six continents. Our work – engineering, architecture, interior design, landscape architecture, surveying, environmental sciences, project management, and project economics, from initial project concept and planning through design, construction, and commissioning – begins at the intersection of community, creativity, and client relationships. With a long-term commitment to the people and places we serve, Stantec has the unique ability to connect to projects on a personal level and advance the quality of life in communities across the globe. Stantec trades on the TSX and the NYSE under the symbol STN.
Visit us at www.stantec.com or find us on social media.
About East Port Properties 
East Port Properties is the leading development company for workplace real estate in Atlantic Canada. Since 1981, East Port has developed millions of square feet of office, commercial, research, industrial warehouse, parking, and recreational facilities, primarily in Halifax / Dartmouth and St. John's / Mount Pearl.
---
FACT SHEET
Environmental Innovations at 351 Water Street
LEED® Gold Certification
The following are several environmental benefits that resulted from East Port Properties' vision and Stantec's design for 351 Water Street:
In addition to the seawater heating and cooling system, the building's HVAC systems recover energy from waste heat sources whenever possible, including from the building's general exhaust and tenant server rooms. This minimizes the use of non-renewable energy as much as possible. When supplemental heating is required – generally only on the coldest winter days – two 400 kW electric boilers provide additional heating capacity to the heat pump system.
351 Water Street also has superior indoor environmental quality. Each floor is equipped with two variable air volume (VAV) air handling units; one for perimeter zones and the other for interior zones. Spaces such as meeting rooms and boardrooms are provided with demand-controlled ventilation using CO2 sensors where fresh air delivery is controlled.
During construction, Stantec implemented a waste reduction program to reduce waste and increase diversion of materials including corrugated cardboard, clean wood, glass, metals, gypsum board, concrete block, plastic, and carpet. Post construction, the facility features a comprehensive recycling program including office paper, glass, cardboard, plastic, newspaper, cans, and organics.
351 Water Street makes it easier for employees to use more sustainable forms of transportation, including public transit, bicycles, walking, or carpooling. The facility is located next to public transit lines, includes bike racks and storage, shower facilities, and reserved parking for carpooling. The parking garage also has two Electric Vehicle charging stations on each level. These features reduce the release of air and water pollutants through vehicle exhaust.
Save This Page
Photos